Cinco de Mayo……
Is that a holiday for mayonnaise?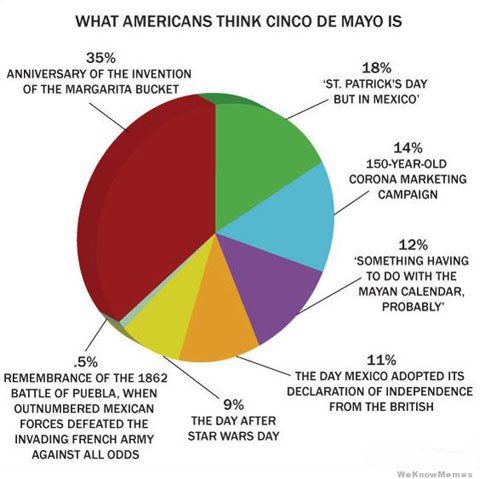 NO it is a Mexican day to celebrate and we Americans with our hate for anything immigrant like will consumer millions of glasses of beer….and eat tons of guacamole……
Speaking of avocados……..
As avocado lovers prepare to ingest a massive amount of guacamole during the upcoming Cinco de Mayo holiday, Bloomberg explains why that guacamole will come at a heftier cost: The price of avocados has set a record, more than doubling since last year. This higher price tag will be reflected both at the grocery store and in US restaurants that are finding creative ways to serve the trendy fruit. We break down why you'll be forking over a pretty penny for that tasty avocado toast:

US consumption of avocados has sky-rocketed. Mexico provides 82% of the avocados consumed in the United States. Since 2000, shipments have increased from 24 million pounds to a whopping 1.76 billion pounds in 2015. This astronomical rise has raised ethical questions around the crop's environmental and social impact.
Worldwide demand is up, too. The avocado trend is going global, with European countries as well as China asking for more of the fruit. Shortages in New Zealand even sparked avocado thefts, reports the BBC, while Mexican exports to China are especially booming, growing at a rate of 250% per year.

Avocado growers had a bad year. Avocado crops tend to vary, yielding more growth one year, less growth the next. A smaller crop is expected this season in Mexico as well as California, where a 44% decrease has been predicted. And a growers strike in Mexico last year did not help matters.
So be prepared to spend more for you festivities…..enjoy and be safe……
Time to withdraw to the drawing room and enjoy my Modelo and guacamole….I will return tomorrow with more stuff for your consideration….let the weekend begin!  chuq