As usual when our president Tweets something then the whole of Twtter goes batcrap crazy…..well this time Trump made a comment about the water saving toilets…..
Donald Trump's latest target for deregulation is Americans' toilets.

The White House has RSVP'd, sort of, to an invite to send lawyers to the next impeachment hearing before the House Judiciary Committee. "House Democrats have wasted enough of America's time with this charade," White House counsel Pat Cipollone wrote Friday in a note to committee chief Jerrold Nadler, per USA Today. "You should end this inquiry now and not waste even more time with additional hearings." NBC News notes Cipollone's letter didn't flat-out refuse the request to send an attorney or other official to the next hearing set for Monday, or other future hearings, but a senior administration official told the network "the letter means that the White House will not participate in the House proceeding." Nadler's response, per USA Today: Trump "cannot claim that the process is unfair" if his team won't take part, and that either way, his panel would "[carry] out our solemn constitutional duty."
Meanwhile, President Trump's mind has been caught up in other matters besides impeachment—namely, how well toilets flush. In an announcement Friday at a small-business roundtable at the White House, Trump noted that the Environmental Protection Agency is currently reviewing water efficiency standards, "looking very strongly at sinks and showers, and other elements of bathrooms," per the Hill: "You turn the faucet on … and you don't get any water. They take a shower and water comes dripping out." He added, "People are flushing toilets 10 times, 15 times, as opposed to once. They end up using more water. So EPA is looking at that." An EPA rep tells USA Today that the agency "is working with all federal partners to review the implementation of the Federal Energy Management Plan … to ensure American consumers have more choice when purchasing water products."
God knows I have been extremely critical of the president and his antics….but on this issue I find myself in complete agreement with him……although he did take some liberties with the amount of water needed to flush the solids down the drain.
The original tanks help about 5 gallons of water and flushed just fine…..now the "new" tanks hold about 3.5 gallons and in some cases needs to be flushed twice or three times….not the the 10 or 15 times claimed by the president.
Water saving devices are bullshit.  Just as the energy saving light bulbs are better…..may last longer but better I cannot agree with that supposition.
But  the is an order for the EPA……a review of the WaterSense program was mandated under 2018 legislation passed by Congress that said the agency should look at any regulations adopted before 2012. That means the government is forced to revisit specifications for tank-type toilets, lavatory faucets and faucet accessories, showerheads, flushing urinals, and weather-based irrigation controllers.
Write it down…I have found something that I can agree with Trump on besides some of his original foreign policy stands.
As long as we are talking about toilets…..anyone remember that stolen gold toilet?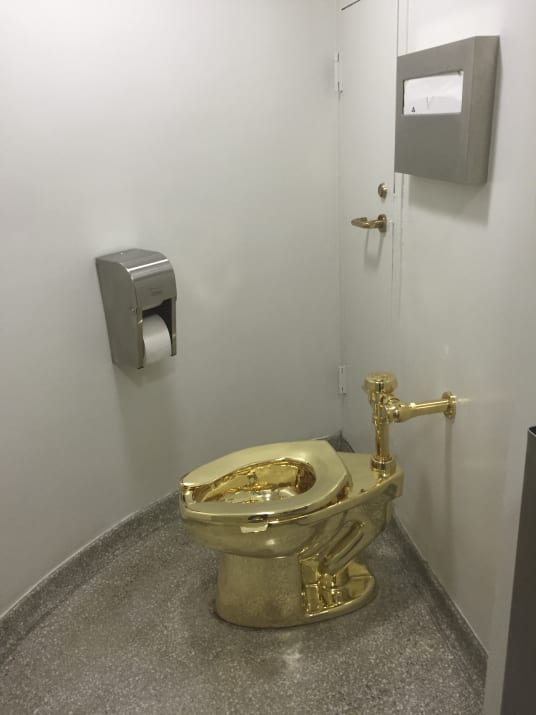 Well arrests have been made but still NO toilet…..
The fully functioning toilet is a piece of art made entirely from 18-karat gold that was installed in Blenheim Palace, England as part of an exhibition by Italian artist Maurizio Cattelan.

Police have been investigating its theft since it was stolen on September 14 and previously made two arrests.

A 66-year-old man was arrested on suspicion of burglary before being released on bail, and a 35-year-old man was arrested on suspicion of conspiracy to burgle and was released under investigation.
Philip Austin from Fine Art Specie Adjusters (FASA), the palace's insurance company, told CNN that a reward of up to £100,000 would be paid if specific conditions were met.

First, the item must be safely returned; second, there must have been an arrest as part of the investigation.

(cnn.com)
I Read, I Wrote, You Know
"Lego Ergo Scribo"