I have seen a lot of arrogant twaddle coming from the Trump admin……these toads think they work for Trump and not the people of the US…..
In other words too many that are employed in DC these days thinks their shit don't stink……like the troll Mnuchin our SecTreas…remember him? He and his arm candy wife were clowning in the Treasury with newly printed money…….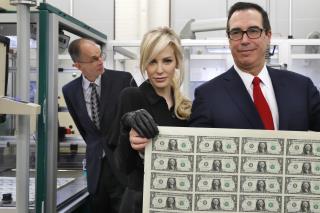 ……….anyway he and the House have had a head butting contest……
Treasury Secretary Steven Mnuchin and House Financial Services Chair Maxine Waters probably won't be exchanging holiday cards this year after things got a little tense during the Treasury secretary's testimony on Tuesday. Mnuchin had testified about his plans to respond to requests for President Trump's tax returns for roughly three hours by 5pm when he reminded committee members that he had a meeting with "a foreign leader," meaning Bahrain's interior minister. "It will be embarrassing if I keep this person waiting," he said, per CNN. "It's a new day and it's a new chair," said Waters. Mnuchin went on to claim a person in his position never testified so long or was treated in such a way by Republicans, as Waters tried to arrange testimony at a later date. "If you wish to leave, you may," she said with a stern look, refusing to dismiss the hearing.
"If you'd wish to keep me here so that I don't have my important meeting and continue to grill me, then we can do that," but "I will not be back here," Mnuchin said, growing heated. "The secretary has agreed to stay to hear all of the rest of the members," Waters responded, per the Hill. "Please cancel your meeting and respect our time." Mnuchin then said she was "instructing" him to stay, while Waters said she was accepting his offer. Mnuchin denied any offer and told Waters to "take the (gavel) and bang it" for a proper dismissal. He left soon after she advised him "not [to] instruct me as to how I am to conduct this committee." Waters later told CNN that nothing is more important than Congress "trying to find out what exactly this secretary is doing." Mnuchin only said he would "comply with the law" in regard to Trump's tax returns, per Time.
His pressing appointment was with some minor minister from Bahrain….WTF is Bahrain?  An island in the Persian Gulf….who has lots of oil dollars and someone that Trump will bow down to on any given day.
Time these self centered jerks get taken down a peg or two……time for them to realize they work for the country and the people and not some country club wannabe.
But wait there is more!
This is from a Congressional Hearing…….
The transcript of the literally unbelievable exchange follows:
Massie: Sec. Kerry, I want to read part of your statement back to you: "Instead of convening a kangaroo court, the president might want to talk with the educated adults he once trusted his top national security positions." It sounds like you're questioning the credentials of the president's advisers, currently. But I think we should question your credentials today. Isn't it true you have a science degree from Yale?
Kerry: Bachelor of arts degree.
Massie: Is it a political science degree?
Kerry: Yes, political science.
Massie: So how do you get a bachelor of arts, in a science?
Kerry: Well it's a liberal arts education and degree. It's a bachelor…
Massie: OK. So it's not really science. So I think it's somewhat appropriate that someone with a pseudo-science degree is here pushing pseudo-science in front of our committee today.
Kerry: Are you serious?! I mean this is really a serious happening here?
Massie: You know what? It is serious. You're calling the president's Cabinet a "kangaroo court." Is that serious?
Kerry: I'm not calling his Cabinet a kangaroo court, I'm calling this committee that he's putting together a kangaroo committee.
Massie: Are you saying it doesn't have educated adults now?
Kerry: I don't know who it has yet because it's secret.
Massie: Well you said it in your testimony.
Kerry: Why would he have to have a secret analysis of climate change?
Massie: Let's get back to the science of it.
Kerry: But it's not science, you're not quoting science!
Massie: Well, You're the science expert. You have the political science degree.
What can I say?  Massie is in good company….cowards and traitors like Jordan, Gaetz, Nunes and Meadows….time for them to go the way of the dodo……these "people" are a national embarrassment and they do not realize how pathetic their politics appears……at least 33% will think they are god-like……
There should be a sign in DC for those that want to represent the people……"NO STUPID PEOPLE NEED APPLY!"
That would eliminate a bunch of babbling buffoons from local aall the way to the White House.