It was untrue in Chamberlain's day as it is today…..while all eyes were on South Africa the world continued to turn and people continue to kill, die and maim……so in honor of them I will concentrate on the Middle East and its problems…..
How long have we been waiting for a peaceful Middle East?  50 years?  More?
Every president has gone into the process with hopes and ideas…..and every time they fall like snow in winter……the Israelis hate Palestinians……Palestinians despise Israelis……and the world sits on their hands and waits for some sort of progress……mostly NO one in the western world wants to offend Israel……sorry, I have NO problem telling them what I think……any debt the US owes them for WW2 has been paid in full….now they either want peace or not……if not then the world should stop doing business with dicks!
Sorry, I digress………what about peace is there any hope for it?  I will be realistic….ABSOLUTELY NOT!
Does that make me a pessimist?  NO!  It makes me a realist!
Then why?  It is not land….it is not access……it is one thing and one thing ONLY!
Would you care to take a guess at what the only reason for no peace?  (Pause here to give time for the mad dash to Google)………..WATER!  Did you get it?
Why water?  Most of the major aquifers in the region are located in the Occupied Territories which would, with a settlement, become Palestine and they could control Israel's water……a scary thought for the Jews……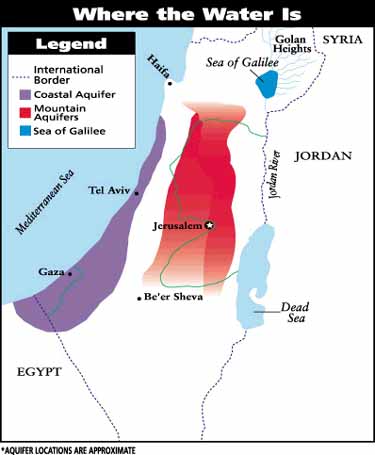 Water will determine the peace….if there is ever to be a peace then water will be the key…..and the biggest obstacle to overcome will be TRUST….neither side trust the other after decades of broken promises….unfortunately TRUST is not something that can be given lightly….both sides need to work on that one obstacle to peace and everything should quietly fall into place……
Enough said?