Spring has sprung here in the South…..birds are everywhere…..bugs especially the mosquitos….lizards and snakes….and this is where the story picks up.
My hunter-seeker MoMo, spends her days doing what she does best….she hunts. She has decimated the squirrel population….as well as the mole population…she has dug up and removed 11 moles…..and numerous wood rats and field mice and at least one opossum….she has to investigate anything that moves in her domain, the wooded area in the back of the property.
We have several garter snakes, which are harmless, on the property…..they help keep the bug population down in the garden.
The largest one, about 3 feet, was finding his way from the oasis, named that because of the numerous palm trees, to the woods crossing the back part of the property…as he made his way MoMo picked up on the movement and went to investigate.
I need to add here that most of the property's critters when MoMo approaches turn and run and she joyfully gives chase.
As MoMo came up on the garter, we named Gary, he decided that running was not an option and made his stand…..
Since Gary did not run MoMo approached slowly and Gary decided he had had enough and went into his defensive mode.
MoMo tried to sniff the critter and it struck out at her…..she backed up and stood confused at the snake's reaction…."Why did it not run so I could give chase?"
Her confusion was amazingly entertaining.
Gary approached MoMo and she decided that it might be a better plan to give him and wide berth.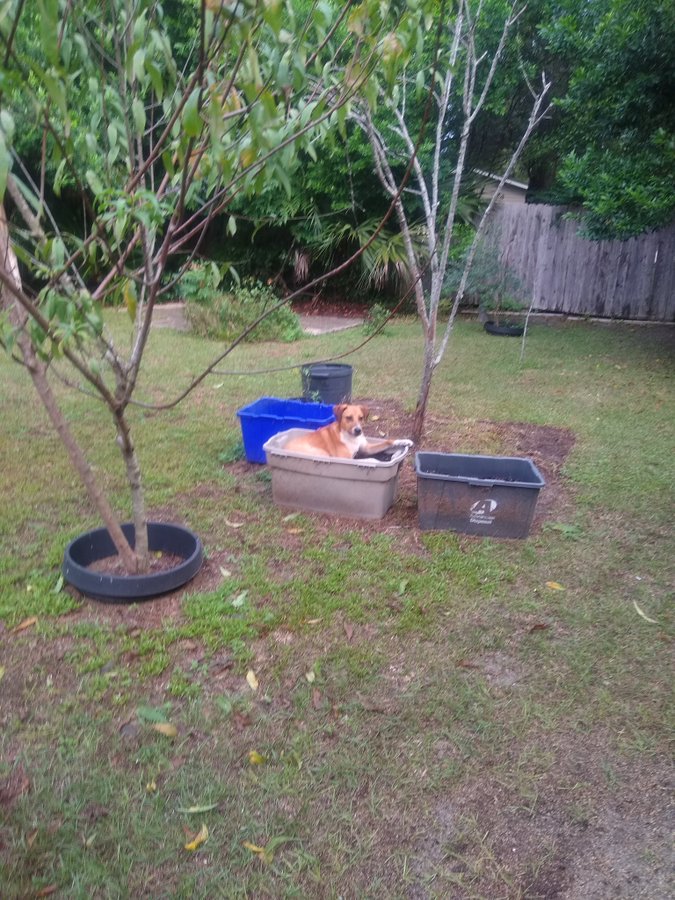 She spent the remainder of the day on the back patio…bummed and confused….for there is a creature in her domain that will not be bullied.
Let me close this post by wishing all the Mothers that visit my site a very happy Mother's Day….enjoy your day….be well and be safe….
May all your days be as happy as you are today.
Peace and love….