Let's start the week with some outrageous Right wing demands.
These are the demands being made by House far righters, the Freedom Caucus, (love the name it is anything but about freedom)….
The debt ceiling debate is about to begin and these are the demands from the far right for that debate.
A cadre of far-right Republicans announced Friday that they may only vote to raise the debt ceiling if Congress agrees to cut hundreds of billions of dollars in social spending, limit federal agencies' future budgets, and abandon progressive elements of President Joe Biden's economic agenda.

Since Washington's arbitrary and arguably unconstitutional borrowing limit was breached in January, the Treasury Department has implemented "extraordinary measures" enabling the U.S. government to meet its obligations for a few additional months. Unless the Biden administration takes unilateral action to disarm the debt ceiling, Congress has until sometime between July and September to increase or suspend the nation's borrowing cap. If Republicans refuse to do so, the U.S. is poised to suffer a catastrophic default.

Led by Rep. Scott Perry (R-Pa.), the House Freedom Caucus said Friday in a statement that its 45 members would "consider voting" to raise the debt limit if their colleagues in the House and Senate agree to:

Eliminate Biden's $400 billion student debt cancellation plan;
Rescind unspent Covid-19 relief funds;
Nix nearly $400 billion worth of clean energy investments approved in the Inflation Reduction Act (IRA);
Repeal the IRA's roughly $80 billion funding boost for the Internal Revenue Service (IRS);
Restore Clinton-era work requirements on welfare recipients;
Require congressional approval before any major federal regulations can take effect;
Cap future federal spending at 2022 levels for the next 10 years; and
Find "every dollar spent by Democrats that can be reclaimed for the American taxpayer."
This is the official release from the Caucus…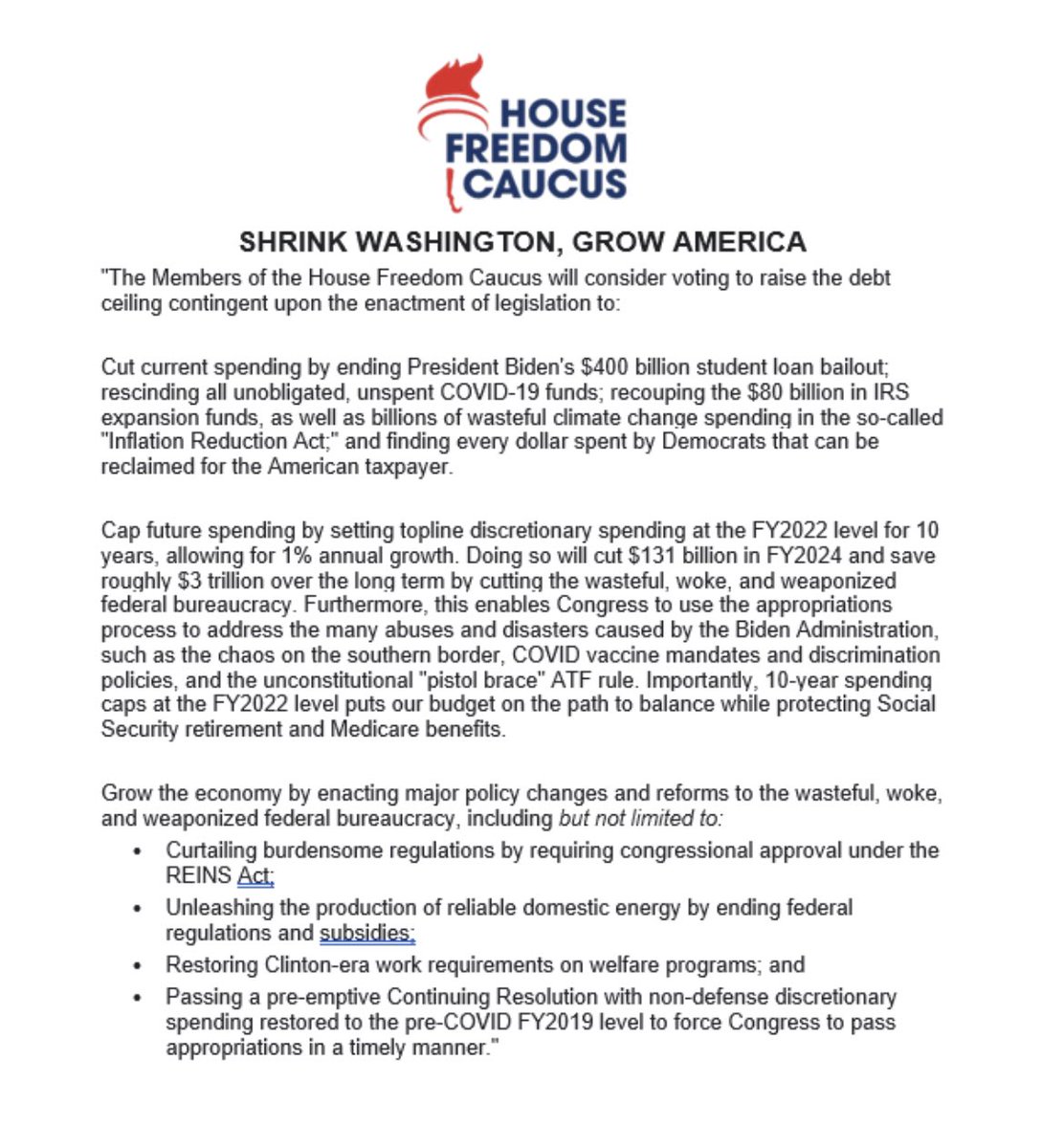 I see lots that will effect the common voter and very little about actually decreasing the "reach" of government.
I love these 'small government' conservatives and their alt-right blowhards.
What crap!
I Read, I Write, You Know
"lego ergo scribo"