Where the Hell is Bakhmut?
Ukraine!
It is a once sleepy town in Eastern Ukraine that has become the focal point of the conflict with Russia…there has been an anticipation that Ukraine will give Russia a counter offense to push Russian troops back into the Donbas.
This should make a visual representation of the region.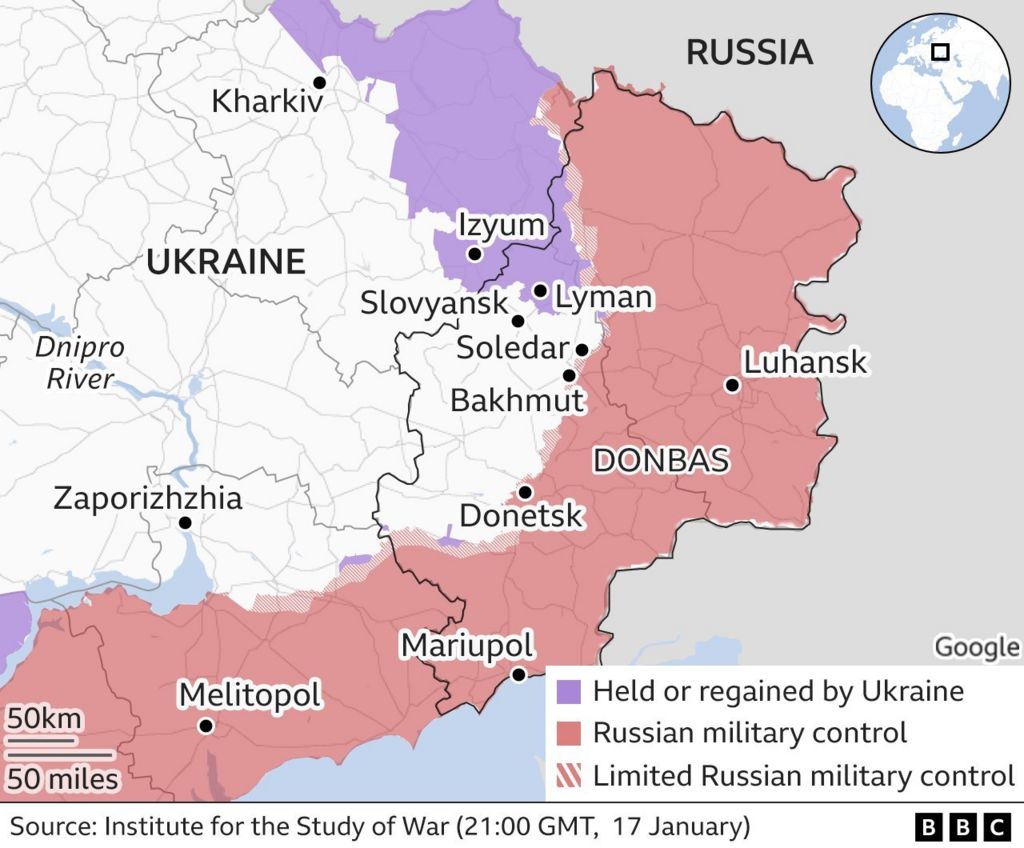 The US is pouring weapons and such into the fray….and few people believe that this will do little  but keep the stalemate in place…..and Zelensky is not very optimistic….
Ukrainian President Volodymyr Zelensky told The Associated Press on Wednesday that if the Donbas city of Bakhmut falls to Russia, he would be pressured to "compromise" with Moscow.

"Our society will feel tired" if the Russians win in Bakhmut, Zelensky said. "Our society will push me to have compromise with them."

He said if Bakhmut falls, Russian President Vladimir Putin could "sell this victory to the West, to his society, to China, to Iran" as leverage to seek a ceasefire deal that would involve Kyiv ceding territory to Moscow. "If he will feel some blood — smell that we are weak — he will push, push, push," Zelensky said.

Russian forces are close to encircling the city of Bakhmut, but the battle is still raging as Ukraine continues to send soldiers into what has become known as the "meat grinder." Ukrainians fighting on the front lines have told the media that soldiers are being sent into battle with very little training, support, and ammunition.

Earlier this month, the head of the Russian mercenary outfit Wagner Group, Yevgeny Prigozhin, said the fighting in Bakhmut was getting "fiercer" and said Ukraine was "supplying endless reserves" for the battle.

Zelensky's comments about Bakhmut come after he said Kyiv could not launch a counteroffensive unless its Western backers supply even more weapons. He told AP on Wednesday that "the United States really understands that if they stop helping us, we will not win."

The US and its allies want Ukraine to give up on Bakhmut and to launch a counteroffensive against Russia this spring, but the prospect seems increasingly unlikely. A senior Ukrainian government official told The Washington Post earlier this month that Ukraine doesn't have enough people or weapons to launch an offensive.

(antiwar.com)
Compromise?
That ought to make the media and about 80% of the people here sad.
This does not seem to be of importance to the MSM…..for them this war must continue.
My friend John at https://limingslynkz.com/ asked about a Plan B for this conflict…..this is something to consider.
I Read, I Write, You Know
"lego ergo scribo"