Most of my regulars know that I have been keeping an eye on the doings over at the US newest military branch, the Space Force…..and now we have a new president will he continue the trend to put our military might into orbit?
Well I have been writing that while I believe our future is space I do not think it should be militarized.  And some Progressives have asked Biden to shit can the Space Force.
But true to his Centrists lack of backbone he will ignore the plea…..
President-elect Joe Biden and Vice President-elect Kamala Harris have vowed to take the United States in a sharply different direction on issues like the coronavirus pandemic and climate change.

But with regard to space and its importance to national security, analysts and industry insiders believe the Biden administration will largely stay the course.

The arrival of a new administration "does not portend any immediate abrupt changes to U.S. national security or civil space programs. Space continues to be a bipartisan policy area and Joe Biden's campaign has articulated their belief in the importance of the domain," the Washington aerospace and defense-focused consulting firm Velos said in an email to clients.

Biden has "expressed no plans for structural changes to U.S. space programs," Velos noted. "The Democratic Party national platform supports continuity within NASA and the Space Force."
Biden likely to stay course on Space Force and defense investments
What makes me think that it will be yet another siphon on the treasury?
The U.S. Space Force plans to almost triple in size and add a Reserve element in 2021, the service's top general said Tuesday as the newest military branch neared its first birthday.

Gen. Jay Raymond, the chief of Space Operations, will officially become a member of the Joint Chiefs of Staff on Sunday when the Space Force marks its one year anniversary. The space chief told reporters that he was optimistic about his plans to grow the force from about 2,400 active-duty troops to about 6,400 by the end of 2021.

"We were up and running on day one, and we have not let our foot off the accelerator ever since," Raymond said in a telephone news briefing. "The progress we have made far surpasses anything that I would have would have expected."
https://www.stripes.com/news/us/space-force-plans-to-nearly-triple-in-size-in-second-year-could-accept-army-navy-transfers-1.655445
Nothing here will change from the Trump years…..is that what you voted for?
Of course the Space Force will continue…..Biden is owned by M-IC and they always get what they want…..even with Biden.
BTW….our Space Force troopers will be known as "Guardians"…(seriously?)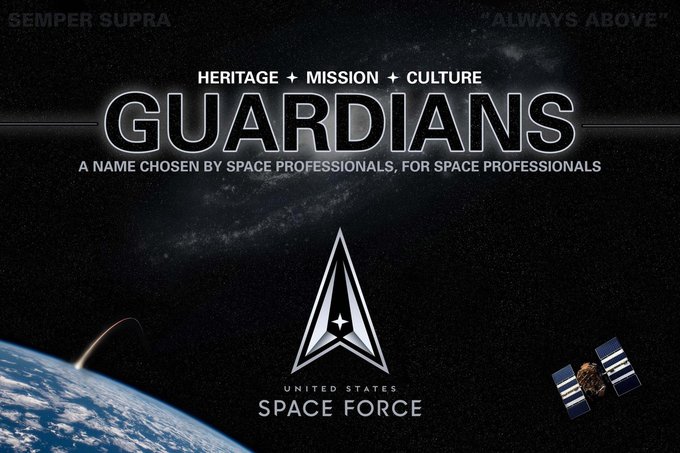 I Read, I Write, You Know
"lego ergo scribo"