Her name is Jasmine, better known as Jazz, and we became fast friends after Katrina….she lost her home and was living hand to mouth on the street.  I was working on some homes that had been hit by the storm trying to get them ready for occupation.  On my morning break I was eating some peanut butter crackers and Jazz came up and sat down beside me and we shared the crackers.
I had to return to work and she went on her way.  The next day I returned to the house and there she was as if waiting for me to return and again on my breaks we shared my food.
A couple of days after we met I had to leave and she bid me farewell.
Fate intervened and I had to go on a call to the same area as Jazz…..the woman said that she had called the city of come get Jazz for she was being a nuisance…….was then that I decided and after I got off work I went to her put her in the backseat and came home.
She was there during the two major traumas in my life…..a smashed right leg and then later when toes were removed….each time she made sure that I did not sit around feeling sorry for myself……she would remind me that I was still alive and needed to get off my ass and move around.
That was 13 years ago and we have been best friends all that time….but like me she got old and had to make the hard decision as to keep her close in pain and suffering or let her go peacefully with dignity….I chose the latter.
It was a heart wrenching decision…..but the right one to have made.
She was my friend, my love, my heart….she will be missed everyday until I join her and we will see each other again…if only in spirit.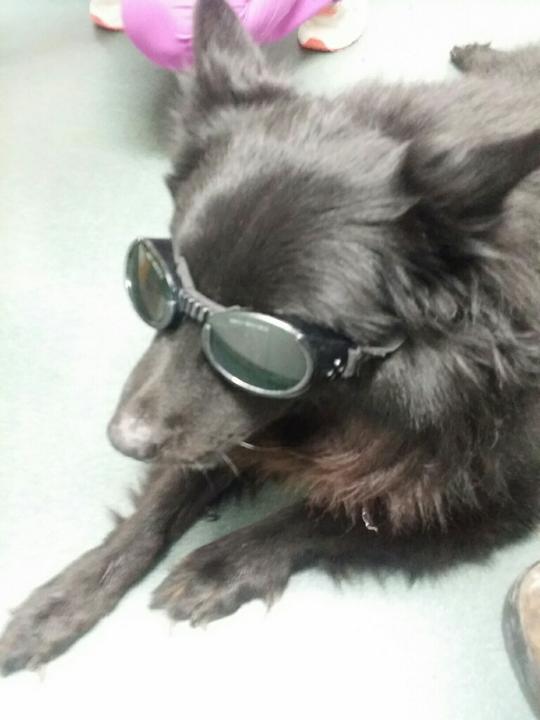 (When you are cool the sun is always shining)
Good-bye my friend…..until we meet again.
May you Rest In Peace.