Of course this is a post about Donald Trump…..have you noticed that his supporters are just like their man crush….they are bullies, self-centered and damn right boring……just like the president……but let's move on….by now you have heard more than you want to know about Trumpy Bear's(registered trademark) sex life.
There is so much more and more important of a story than the sleazy side of sex…..can you remember the evangelicals and their shaping of Repub politics?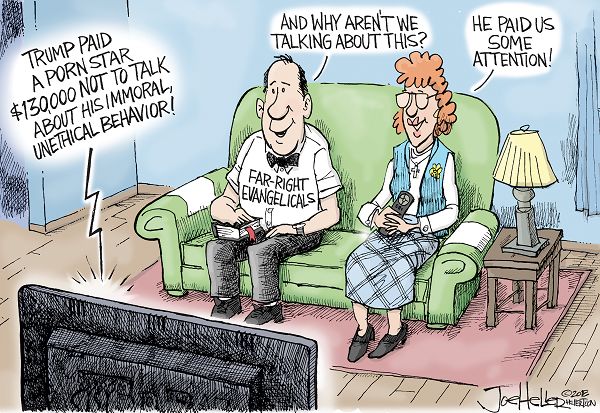 This scandal-in-waiting shows more than Trump's sexual tastes…..it illustrates that those evangelicals that have been so front and centered in GOP politics can NO longer claim to hold the moral high ground.
Donald Trump is a man without any discernible redeeming qualities, but nonetheless I'm grateful for one thing he's done, without really trying: He has exposed the true nature of the Christian right. For more than a decade now, I've been diligently writing and researching, trying to build the case that the religious right is not motivated by moral values, but by hatred of women and LGBT people — and that many of them are white supremacists, to boot. And then here comes Trump, bragging about how he likes to "grab them by the pussy" and spreading racist propaganda, and sweeps up 

80 percent of the white evangelical vote,

 more than true-believer George W. Bush got in 2004.
I can say that I never thought I would live to see the day when evangelicals make excuses for perverted actions of a politician…..
Personally I never thought these evangelicals held the moral high ground but they were given that title by the media and self-serving Christians that never live by Christian beliefs.